One of the most essential elements of personal health and well-being is clean, healthy teeth and gums. With regular use this Waterpulse Cordless Water Flosser provides the dental care you need to help maintain good oral health. The cordless irrigator design provides greater maneuverability and lets you easily clean harder-to-reach areas.
✅ This Waterpulse Cordless Water Flosser uses a motor and pump to produce a stream of pressurized, pulsating water to flow from a reservoir and exit through a narrow mouthpiece.
✅ This targeted water stream serves as a liquid jet of dental floss to help remove food from teeth and gums.
✅ In addition to cleaning your teeth thoroughly, the water flosser also gently massages and cares for your gums. A water flow will comfortably stimulate and massage your gums.
✅ Added massage function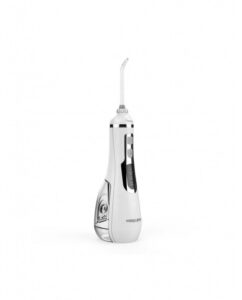 EASY & EFFECTIVE: The Waterpulse Water Flosser is the easy and most effective way to floss, removing up to 99.9 percent of plaque from treated areas and is up to 50 percent more effective than dental floss for improving gum health; Perfect for braces, implants, and other dental work
TESTED & TRUSTED: Waterpulse is clinically proven and recommended. Enjoy healthier gums and brighter teeth in just 1 minute a day.
ADVANCED CORDLESS DESIGN: Enjoy the convenience of cordless water flossing design for use in the shower. Includes 3 pressure settings ranging from 60 to 120 PSI for a custom clean, plus ultra quiet operation. Delivers 1600 water pulses per minute.


RAPID MAGNETIC CHARGING: Convenient charger connects magnetically to the unit and charges in 4 hours; LED battery indicator lets you know when it's time to recharge
GREAT FOR TRAVEL: Cordless Advanced is portable and global voltage compatible 100 240VAC, 60/50Hz; it includes a travel bag and tip storage case plus 4 accessory tips for multiple users and needs.
Includes:
  1 x Oral Irrigator

  4 x Water Flossing tips

  1 x Travel Bag
  1 x USB Charger
  1 x Instruction Manual